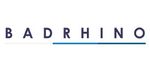 BadRhino - 10% Volunteer & Charity Workers discount
Big & Tall Menswear
Use code at checkout for your exclusive discount
Highlights
At BadRhino we aim to deliver the very best clothes for big men online and in-store.
On-top of clothing for the larger man in sizes M to 8XL, you'll find a collection of fashionably designed tall men's clothing in sizes MT to 4XLT.
From smart men's suits and shirts, to casual men's clothes featuring t-shirts, jeans, our men's large size clothing combines comfort and style in everyday and formal wear collections.
Shop now and find what you're looking for with ease right at BadRhino.
Standard site terms and conditions apply. Full price items only.