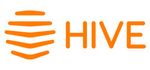 Hive Smart Products and Services - Exclusive 5% Volunteer & Charity Workers discount
Use code at checkout
Highlights
Hive smart devices, including the award-winning Hive Active Heating thermostat, work together so your home works around you. You can control all your Hive devices through the Hive App or with your voice, as all the Hive products are smart-speaker compatible.
When you connect Hive devices together, they can make your life life easier in amazing ways; like motion sensors that turn on landing lights at night; or heating that turns off automatically if someone opens a window.
Our smart thermostat works with your existing heating system, and it could help you save up to £110/ year by never heating an empty home.
Voucher code valid between 20th Dec 2021 and 31st Dec 2022. Offer excludes multipacks of any kind, including TRVs, plugs, lightbulb, camera and sensors, any EV Charging and Phillips Hue product, Starter packs and HomeShield packs with Pet Sensors. Offer excludes any subscription products. Offer cannot be used in conjunction with any other offer. This offer or promotion is subject to availability and can be removed at any time.