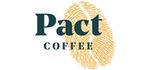 Pact Coffee - 30% off 1st, 3rd and 5th orders
Use code at checkout for your exclusive Volunteer & Charity Workers discount
Highlights
Pact Coffee is committed to ethically sourcing better-tasting coffee.
Customers can choose from wholebean, freshly-ground coffee or pods with flexible plans and regular deliveries available.
We're proud to source our coffee beans via direct trade and pay our farmers a fairer than fair trade price for their top quality beans.
Standard site terms and conditions apply.